For a Mets fan, yesterday could have been of the most anticipated days since the Mets lost to the Cardinals in the 2006 NLCS. The Mets had a double header with two young guns at the mound, Matt Harvey and Zack Wheeler. They were calling it, "Super Tuesday" as it will surely be remembered as a turning point in the Mets rebuilding era. Zack Wheeler was finally called up from the Minor Leagues and boy did he impress. Especially because he had to wait at the ballpark for 11 hours, as last years top pitching prospect, Matt Harvey, was striking out Braves left and right and took a no-hit bid into the 7th inning. They ended up taking the first game 4-3 and fans were anxiously awaiting, Wheeler Time.
The future is bright, Mets fans! Wheeler started the game with a walk as his nerves were definitley getting the best of him. Captain David Wright, walked over to the mound and said something to Wheeler making him chuckle, trying to calm him down. His control was still not quite there but once he got his first out, he was wheelin and dealin. Wheeler overcame early control issues and pitched six scoreless innings. He allowed 4 hits, 0 earned runs and 7 strikeouts and earned the WIN.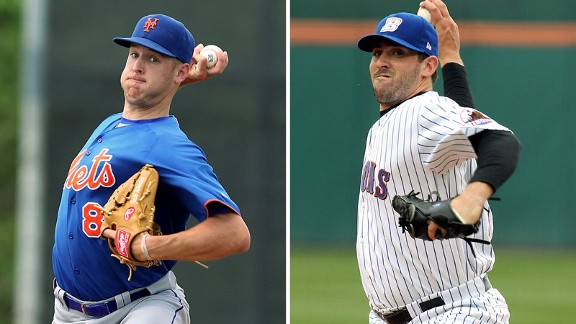 All in all, "you gotta believe", our future looks bright and pitching wins championships. Harvey has already had 25+ starts in the Majors and it is evident he is here to stay and as an elite pitcher in the majors. In Wheeler's case, you saw promise. He got out of many innings with runners in scoring position and was throwing his fastball at 97MPH. Although, he had control issues early, so did Harvey when he got brought up last year. The Mets can have a dangerous 1-2 punch for years to come.